Sharing your Photos on Instagram. Is it really the cash magnet to double your income.
I am thinking for a while now that I should start to put more attention on my Instagram account. When I googled how to get more followers and get more reach with my Instagram Account, I came across this Add.

Well, I checked it out and bought it. I saw that they have a 100 Day Return policy. No worries I can return the product if I do not like it.
Tried it and was a bit disappointed as I had a different understanding of what the product is.
My honest First- Hand Review on the Product Profits Gram from Trevor Dawson.
I find it cute that he mentions his dog and I am sure there is a story behind it.
The Profits Gram is actually an E-Book, not a program.
Known as InstaProfitGram or ProfitGram it claims in the headline that you are able to make easily 750$ a week or 200$ per day by monetizing your Instagram account.
Is it possible to make money on Instagram with Profits Gram?
So it turns out it is an e-book as I have said before. The price for that e-book is 77$ but you get a discount and you pay only 37$.
To my surprise, Profits Gram is not really related to Instagram and you can also earn money on Facebook.
I am sure you already wondering what is this product that can give you the golden Opportunity to make lots of money with it. 
Well, it is not a program it is an E-Book with around 46 pages. Yes, you heard right. 
I have read reviews and most of them talk about a program. I do not believe they have purchased it otherwise they would know it is an e-book. 
With Profits Gram you can earn money with Instagram and Facebook. ( Or any other social Media account) 
The E-book will explain to you how you can sell your own pictures to Twenty20 Royal Stock Photography, the types of photos that sell and are in market demand, how to use or add keywords to your photos and how to connect your Social Media Accounts. 
Below you see a glimpse of the content table of the e-book.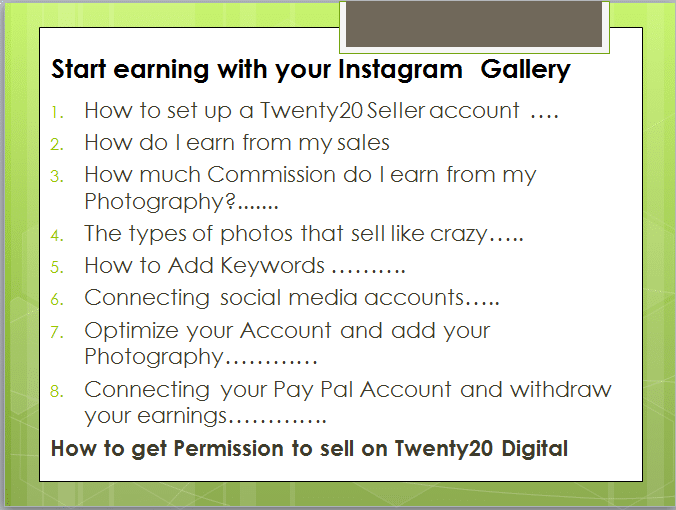 Just to be clear the platform is Twenty20 what is another royal stock photography site where you can sell your mobile pictures. It is an app and you can download it from your iTunes store. ( this app is only available on IOS.)
I did not find the app on the google play store. I used my iPhone to access the app. 
What you have to do in order of getting paid
The first step you have to do is download the app from the iTunes app store to your mobile device.
#Then you set up an account with your email and a password.
#Select I am interested in Selling My Photos and click on the signup button.
#Every photo you will upload will be available for sale. Note:  all the images you upload will be checked by the Twenty20 team.
#That is the basic what you will do and how you are going to make money if you follow the instructions of the ProfitsGram E-Book. 
As you can understand,  it has nothing to do with Instagram. 
If you belong to the many who love taking photos with their smartphone everywhere they go then this is actually an opportunity for you. If you can manage it well you might make money and have fun doing this business. 
My understanding of ProfitsGram.
What I understand and I might be wrong but it also mentions that you can take pictures from social media and sell them as your own.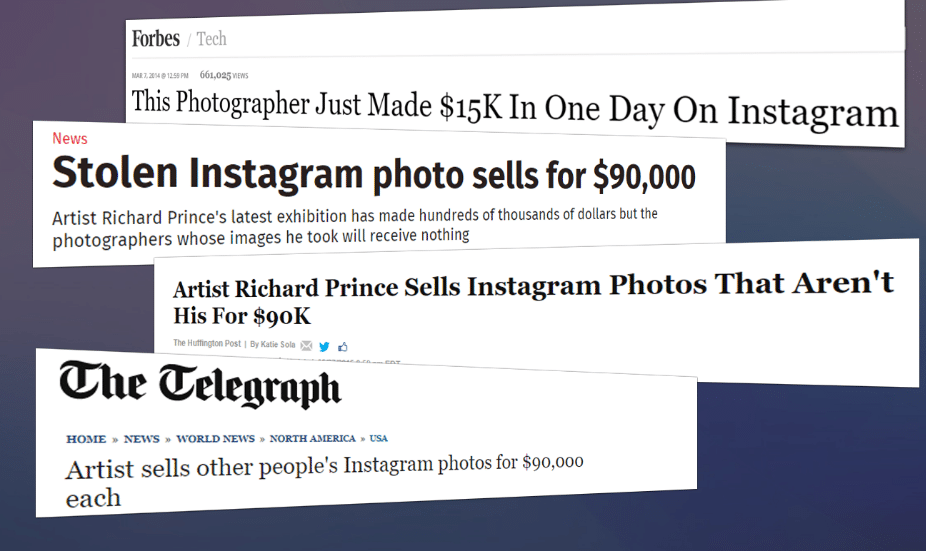 Does the Profits Gram hold up to their promise? 
There is no doubt that the E-Book is structured in detail how you can sell your photos online. 
It has a lot of information on the legal issues about online photos selling. I find the tips on how to sell and monetize your photos interesting and helpful. Especially for people who have a passion for photography and want to make some money.
In short and plain simple what you learn in this e-book is how to sell your photos on the Twenty20 platform. 
100 Days Money Back Guarantee.
ProfitsGram comes with a 100% Money Back Guarantee. It means when you are not satisfied you can get a full refund within the 100 Days. 
I have to say the 100 Days is pretty cool, as it says ProfitsGram is very confident about their e-book.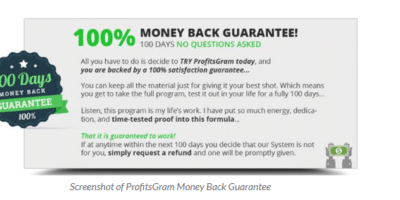 What threw me a bit off is that it actually has nothing to do with Instagram it shows you how you can "make money" from the Twenty20 royal stock photography company. 
It is misleading about making money from your Instagram account.  I can not say it is a scam but I would say it has twisted the actual purpose. 
The e-book explicitly says making money from "Twenty20′, and not from "Instagram". 
Price of the e-book is USD $ 77 but on a discount offer, it is USD $ 37. 
Even it may seem affordable, if you are looking to do something with Instagram it is not worth it.
On the other site if you are into mobile photography and you love to monetize it then it is totally worse the money. 
On the other hand, there is a seller guide on the Twenty20 platform where you can learn more about the topic.
Except for the little Tips and Tricks that Profits Gram has in the e-book you will not learn with Twenty20.
For me, there is no doubt that you can really make money selling photos on Twenty20. Yes, there is a ….. 
But there is also the other side that this niche is quite competitive and you must be pretty good and have special photos to succeed and be able to achieve a 4 figure income each month.
I am not saying it is not possible, I am just saying you need to be passionate and determine and put a lot of effort into that business. It is not "easy money".
So my opinion the product receives from me only 3 stars out of 5. 
Reason: It is misleading on Instagram and it promotes the platform Twenty20.

Selling photos online will not make you rich or even earn a full-time income. 
For sure it is good pocket money, but it is not a long-term solution if you are serious about making money online, or looking for something to substitute your income. 
If you are serious about making money than go into Affiliate Marketing that is my recommendation for anyone who wants to make money online long term.
There is a simple reason for it…
#There is no recruitment of staff involved
#No MLM direct selling 
#You create and build your passive income in your own time and pace
# No inventory needed 
#There is no need to invest thousands of dollars up front
#It is free to get started 
# Free Training 
#so much more 
I have created my 5 figure business with affiliate marketing. It is not an overnight thing, it is a hands-on business, it requires passion, work, determination and an open mindset. 
Find out how I created my business with a passive income stream. 



All Yours 
Sylvia