Update of Post.
Drive Traffic Like Crazy: Unleash the Power of Traffic Ad Bar in 2023/2024
Are you looking for Traffic to your site or landing pages? You need Traffic to keep your website in the stats. Did you come around Traffic AdBar? When You search the Internet, there are so many Traffic exchange sites. It is so confusing, and choosing the right one is like winning the lottery.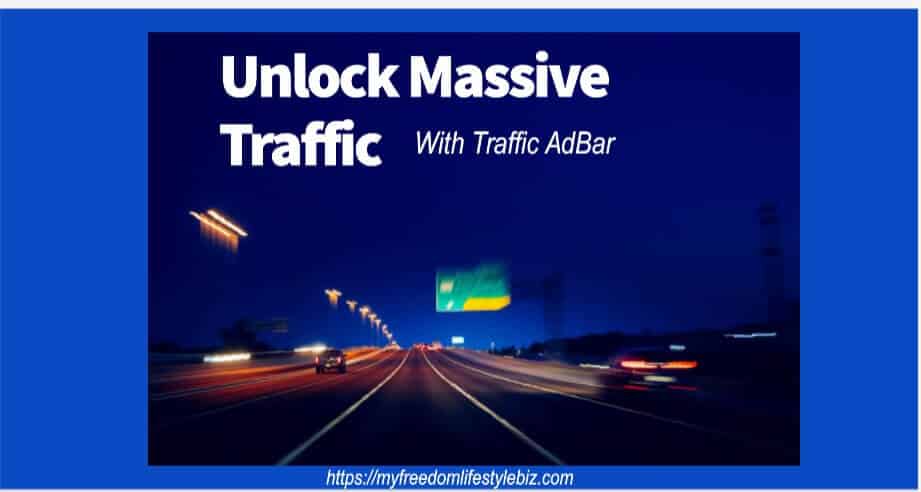 Traffic Ad Bar Review  
In the beginning, when I started, I signed up for a few traffic exchange sites.
I did not know them better, as when I searched on Google and YouTube, everyone was telling a story and how great they were. Being a total newbie at that time, I thought ok, why not try it out? I wrote this review in 2018, and I am just updating it as I am still a member of Traffic Adbar. (2023)
Business Name: TRAFFIC AD BAR
Category: TRAFFIC EXCHANGE
Year founded: 2009
Founder: Darren Merret
Website: http://trafficadbar.com
Pro-Lite:      9.99 USD
Pro:            19.99 USD 
Platinum:   39.99 USD
Overall Rank: 80 out of 100
What About the Traffic Ad Bar?
Traffic Ad Bar belongs to the Traffic exchange system and sends visitors and referral links to your website. You can make good money with Traffic Exchanges, but you need to know how to use them.
Similar to other traffic exchange services, you view other member sites to gain credits. In the Traffic Ad Bar, the credits do not automatically turn into views.

The Traffic AdBar Ladder System 
Traffic Ad Bar has a Ladder system that will determine how much traffic you get to your site. It compares your credits with other members' credits. 
Traffic Ad Bar has been in operation since 2009. It has made mostly positive impressions. There will always be some people who will say Traffic exchanges are bad, but they do have pros and cons. I used it, in the beginning, to sign up for Affiliate programs that only let you join with a certain amount of traffic.
The Traffic AdBar Level Ladder

Traffic Ad Bar Level Ladder, In general, has 17 levels. 
Level 17 is the Top Level. Level one is the bottom Level. The higher you are on the ladder, the more hits you will receive in a three-day Period.
The ladder is reset every 3 Days according to the number of points gained by all the members in the previous three-day period.
When you are on level 10, then you can get up to 1,022 hits every day. The Ladder resets every three days so every member has the chance to come to the top. 
Traffic Ad Bar has a Bonus System. For every 25 pages surfed each day, you get bonus points that you can then exchange into hits.

There are different ways you can earn points with the Traffic Ad bar.
a. clicking the links in your daily email ( gives you extra points)
b. promoting your sites with the banner from Traffic Ad Bar
c. adding their widget to your website
d. surfing other sites
e. Download the Traffic AdBar on your website.
500 bonus points every day you view websites
100 extra bonus points every time you view 25 websites.
What Are The Pros of Traffic Ad Bar
You can join the program for free; there is no obligation to pay anything
It has a referral link that you can post on social media or your website and invite friends

You can get 100.000 free points to advance the ad leader ladder

Extra points rewards and exposure for activity

The 20 daily leagues get featured, and you get more views for recognition

It comes up from time to time with a code for you to identify to make sure you are not a robot

Contact form and good site support

Get ideas for your promotions ( see how other people promote)

Exposure to other members who will view your profile and website

Member profile with a picture, a brief description of yourself and your business, and it has all your websites listed that you promote.

Traffic Ad Bar has all the features that other Traffic Exchange Sites have, but the Member profile with a picture and the activities link is one outstanding feature.
The other one is the Traffic Ad Bar Banner links. Links are created for each website you add. It displays your site with a Traffic Ad Bar Banner across the bottom of it. Every time someone views this link or clicks on one of those ads, you gain points. It is an excellent way to get referrals.
What Are The Cons of Traffic Ad Bar
If you do not click on the sites, you get less traffic.

It is a distraction in your daily routine; you can get easily sidetracked.

Users on Traffic Ad Bar have only one aim in mind, and that is to surf the sites as quickly as possible to collect points.

( This is a common problem for all Traffic Exchange sites)

Free members have to view many more sites than paid members.

You will receive a daily email with your links to view and click on ( It might create pressure for some people)
Traffic Adbar brings a lot of value to the traffic exchange method of getting more traffic to your website. There are many benefits to upgrading. If you are going to make this a key part of your marketing, upgrading is the way to go.

Different Levels of Membership with Traffic Ad Bar
The free one cost you $ 0.00

The pro-Lite cost you $9.99

Pro cost you $19.99

Platinum cost you $39.99

Are you a member of Traffic Ad Bar?
I am currently with Traffic Ad Bar Pro. You will receive a bonus for being an upgraded member. Your sites will also be added to daily email links sent out by Traffic Ad Bar. The email sent out includes several links that earn points when clicked on. Those make you higher points than the regular sites when you surf.
Does Traffic Adbar have an Affiliate Program?
Yes, it has, and you can get cash and points for referring people.

You will receive points for referrals, and you will receive a commission if they upgrade.

Refer someone and receive 20 points.

Plus, for every 100 points they earn each month, you'll receive a credit of 10 points for doing absolutely nothing!

Who are the Visitors, and where do they come from?
Those visitors are mainly members of the Traffic Ad Bar. If you take advantage of the upgrades, your referral links and website will also be introduced to other Traffic exchange sites.
When you want visitors to your site, you need to earn them on Traffic Ad Bar. How to earn? You will collect them by surfing the list on the traffic ad bar. The list is made of publishers that want traffic. Those publishers do the same as you browsing the sites and get hits for it.
Can I trace the visitors to my website from Traffic Ad Bar?
Yes, you can when you have Google Analytics installed on your site. You can track where your visitors come from.
Aren't those hits Autobots?
There is a difference between autosurf and manual traffic exchanges.
Autosurf is a bot system. It means you do nothing. Those are empty views. For sure, you do not want or prefer bot traffic coming to your site. Why? Simply, it does not subscribe or click ads. It is empty and wasted traffic.
The manual exchange is a system where you have to view the sites. If you reverse the role, then you putting in your own time and energy into surfing, and you want the hits you earned to be good.
Imagine this: you invest the time and money into viewing and surfing; in return, you get bots who click on your site. You would be pretty unhappy. 
Manual Traffic exchange usually bans all bots for surfing to ensure that the traffic you get is as high quality as possible.
Autosurf exchanges not only sanction the use of bots, they often provide the bots.
Whenever you look for a Traffic exchange site, you look out for a manual traffic exchange site like Traffic Ad Bar.
There are a few things you should know and take caution about traffic exchanges. 
When you have Ad Accounts on your site, do not send the Traffic from the Traffic Ad Bar or any Traffic exchange to that page.
Create a new page without the Ad Account service (Google AdSense); otherwise, you will be banned, and that can hurt your site.
Watch out for Autosurf sites that traffic you don't want. It is a waste of time.
Be smart and filter bots from your analytics.
It will help you to know where your traffic is coming from and how much is coming from a Traffic Adbar or any other Traffic Exchange Site. It will also confirm if the Traffic exchange site you use is legitimate or it says one thing and does another.  With one click in Google Analytics, you can filter out common bots.
The best way is to create enough content with great keywords that bring you organic traffic to your site.
It is hard when you are new to get traffic to your site, but there are solutions and systems around who can help you with it.
Traffic Ad Bar gets me a rating of 80 out of 100.




I have to say for my landing pages, Traffic Adbar is a good option. 
All in all, if you are new and need traffic to your site for various reasons, sign up with Traffic Ad Bar. Over the years, it has improved a lot. 
Thanks for reading my review, and I hope you let me know your experience with Traffic Ad Bar. If you know an excellent Traffic exchange site, please share it with us.
Would you love to sign up for the Traffic Ad Bar? It is free, after all, and you can try it out.

All Yours
Sylvia
Recommendations to read: 
How to get more traffic for your website
Increase Affiliate Sales by 300 Percent