A Business without Leads and Sales can not succeed.
It doesn't matter what kind of business you're in, if you aren't able to generate new leads and turn them into paying customers, your company will never succeed. Leads and Sales are the Bread and Butter for any business.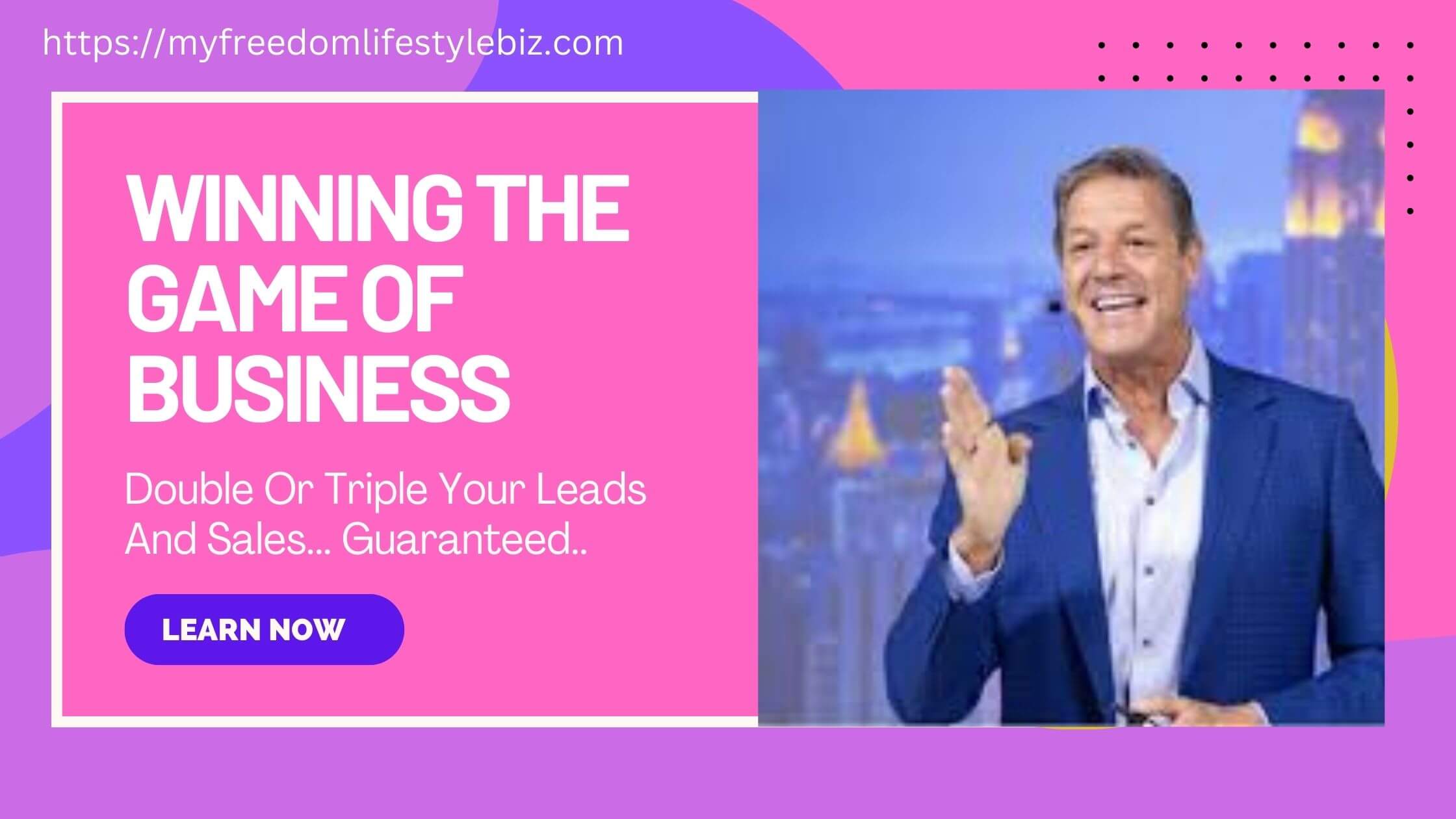 You need to be constantly bringing in new customers if you want your business to thrive.
Generating more leads is anything but easy and if you don't have a solid marketing strategy that will drive more traffic to your website, you'll never be able to generate the leads you need for your business to succeed. 
How to get more Leads and Sales for your Business?
Get the Winning the game of Business A 3 Part Training Program. By John Assaraf
In level 1 you will be provided a step by step roadmap to follow to build your inner game and dream business. Without these steps your foundation is not strong. As you know a building is always build on a strong foundation, as if not it will crash in the process.
The Sales and Leads Implementation
Level 2 will teach you how to map out your end to end sales process from Banner to Buyer. You will be thought the Neuro- Marketing Tips that turns prospects into buyer and saying YES to your product.
Optimization of your Plan
Level 3 Here comes the expert Training on how to streamline & scale your business. With a done for you action plan to get you to the 6 to 7 figures in 100 Days.
To understand your Business you need to have the right mindset to be ready for success. Not everyone is ready and they will start to sabotage themself. With this training you will eliminate your blocks and obstacles that are holding you back from creating the success you deserve.
Level 1: Foundation
▶Module 1: Winning The "Inner Game" of Business
How to master most important aspect of business: Your business mindset. Job#1 for you to become unstopable in your business.
▶Module 2: Vision, Mission Goals...
Create a powerful vision for your future with clear, "stretch" business goals. In times of chaos, there are certain Winners & Losers. John will ensure you are on the right side.
▶Module 3: Ideal Client Profile Workshop
You'll re-define who your "ideal client" is, then discover a process to map out their pains, wants, frustrations & aspirations (at the deepest level). This is how the Psychology of Influence and Neuro-Marketing transform your business.
▶Module 4: Unique Selling Proposition
John reveals how to escape the "sea of sameness" in your marketing so customers buy from YOU (and not your competition).
▶Module 5: "Neuro Marketing and Neuro Sales."
Integrating "Neuro-Marketing" & "Neuro-Sales" into your messaging.
▶Module 6 : 6 Hats of Business Breakthrough Success
Discover how to conquer confusion with this powerful decision-influencing technique to expand your business and pump up profits.

Level 2: Implementation
Together We'll Map Out Your End-To-End Sales Process From "Banner To Buyer"
With Proven "Neuro-Marketing" & "Neuro-Sales" Strategies That Drive Massive Profits
▶Module 1: Developing Your End-to-End Sales System
Map out your end-to-end sales process from Banner to Buyer – with a proven framework of easy-to-follow steps 
▶Module 2: Creating Your "Irresistible Offer"
You'll finally crack the code on creating an offer that customers can't refuse. 
▶Module 3: Content Strategy
The keys to Social Media growth with his content marketing "secret sauce" recipe. 
▶Module4: On Camera -Confident Training.
How to win over an audience, create instant rapport & build a tribe of fans who crave your content. ( You will loose your panic when hitting the record button)
▶Module 5: Marketing Hot Buttons & Dopamine Triggers
TOP SECRET: 'Emotional Hot Buttons' & 'Dopamine Triggers' that cause people to BUY immediately… 

Level 3: Optimization
Get Expert Training & Guidance On How To Scale Your Business – With A
""Done For You" Action Plan To Get You To 6 Or 7 Figures Faster And Easier
▶Module1: Optimize Your Money Making Marketing Machine
Create an optimized lead generation plan with proven* tactics to ensure you get powerful ROI from your marketing efforts. Optimize your entire marketing sequence to BOOST your leads and sales = profits.
▶Module 2: S.T.T.T.R. Workshop
The guaranteed formula to go from just setting business goals to actually achieving them. S.T.T.T.R. Method uses the latest neuroscience research to reprogram your brain for massive success.
▶Module 3: Your 100 Day Action Plan
Get John's 100 Day Action Plan that he has used to build and sell 5 multi-million dollar companies. This plan is practical, measurable, and goal-focused for you and your entire team.
▶Module 4: The G.O.P.A. Method
 Tapping into your subconscious and connecting your goals & dreams to your outcomes using cutting-edge visualization techniques. Note: John only teaches this to his $35K a day private clients.
▶Module 5: Automation Tools, Tips & Technology
If you desire higher revenue and faster growth at a lower cost… this is for you. John takes you behind the scenes and shows you the tools he uses to automate workflows so you increase operational efficiency and grow revenue & profits faster than ever before.
Don't wait and get this training now. Don't see it as an expense see it as a Investment in you and your business. Every Business needs Leads and Sales.
Leads and Sales equals Profit. Get it now …