You might have realized that the most interesting and useful psychological tricks that we talk about are not taught by your parents.  
The good news is that we are going to be covering 5 PSYCHOLOGICAL TRICKS that can improve your lifestyle.  These are especially useful in leadership, relationships, marriage, business and any sort of scenario where you are trying to persuade someone.  
1. Why Knowing these 5 Psychological tricks will give you an upper hand when negotiating daily with people. 
The first one is the word "BUT" or "However". These words are commonly used.  We use them a lot in communicating with our family members, friends, and colleagues. People do not realize the amazing power around the word "BUT".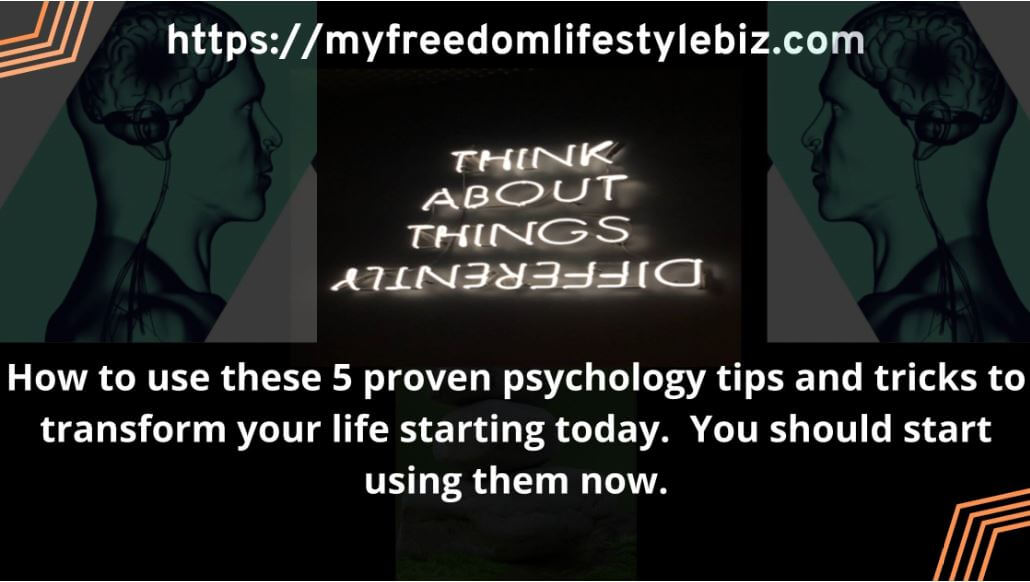 Many people deliver varied messages the wrong way.  They tend to deliver the good news first and then the bad news next. But the opposite is the way to go if you want to maintain a good relationship with people. 
For example, if a friend or family member asks you to hang out with them and you cannot oblige. Instead of saying "I really cannot go out tonight", you can say. "I really cannot go out tonight, but I would have loved to." Thanks for the invite". The person will not feel so bad since you responded with a positive attitude.
So, in any sort of scenario with combined news, put the good material second and the not so good news first.
2. Another Psychology Trick That Gives You An Edge In Daily Negotiations. It Works Tremendously.
The second tip has to do with something called "A DOUBLE BIND". This happens when conflicting messages are generated in communication. With one negating the other. You want to be aware of this especially when it is being used in a sales situation, perhaps to your disadvantage.
Double bind theory was first described by Gregory Bateson and his colleagues in the 1950s.
Double binds are often applied as a form of control without open pressure. The use of confusion makes them difficult both to respond to and to resist.
This technique can be used to help in making decisions or to upsell your option. The possibilities are almost limitless.
When using this sales technique, it is important to offer only two options – no more, no less. This gives the perspective of choice, yet it does not overpower someone with different options.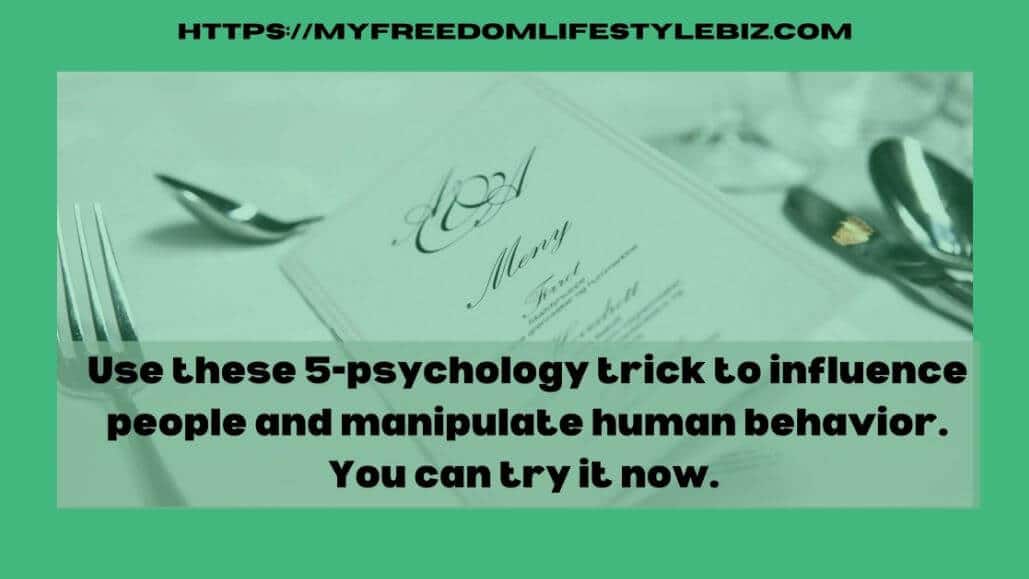 For example, if you are looking at a menu in a restaurant and your waitress presents you with two specials for the day like grilled Salmon with a side dish or grill steak with salad. And you were just looking at the menu and have not decided on what you want to eat.
Maybe you were thinking of eating something cheaper or healthier. But you are being presented with two good options, that are the restaurants' higher profit generators.
This trick is used in sales all the time.  Be aware of it.  You can use it much to your advantage with people.  Or in leadership or sales roles where you have to use persuasive negotiations to influence associates.  The best way to do this is to use "A DOUBLE BIND".  
3. Effective Cognitive Therapy Techniques as the secret to totally transform your life today. Boost your life. Start now.
Next is the third trick. This is about VISUALIZATION. Our brain is continuously using visualization in the process of envisioning future occurrences. It happens so naturally that you usually are not aware of it.
Research shows that when we visualize, we can do implausible things in our lives, what we do not realize is that the images that are created in other people's heads by our own words are just as powerful.
The more details you have in visualization the more real it will become, and the more it will increase performance as the brain starts to grow neural connections that result from the repeated visual image along with enhancing motivation that increases the likelihood of taking an action toward your goal.
For example, if you think about wanting to go to Paris, France for a vacation and instantly reject it, you quickly forget about it. However, if you think going on a vacation in Paris, close your eyes and spend a few minutes really visualization the details, how wonderful it would be, site seeing, enjoying the images until you are filled with excitement, your decision to purchase a ticket and plan your trip increases intensely.
So now, you have imprinted the idea in your brain, and your brain gets activated in trying to develop plans on how to attain what it is that you desire and have visualized.
You might start to think about putting together the best itinerary for your trip. You start researching tourist attractions and things to do in Paris.
The best way to boost your visualization is to put in work.  Picture it in detail, feel it, and plan how to achieve it.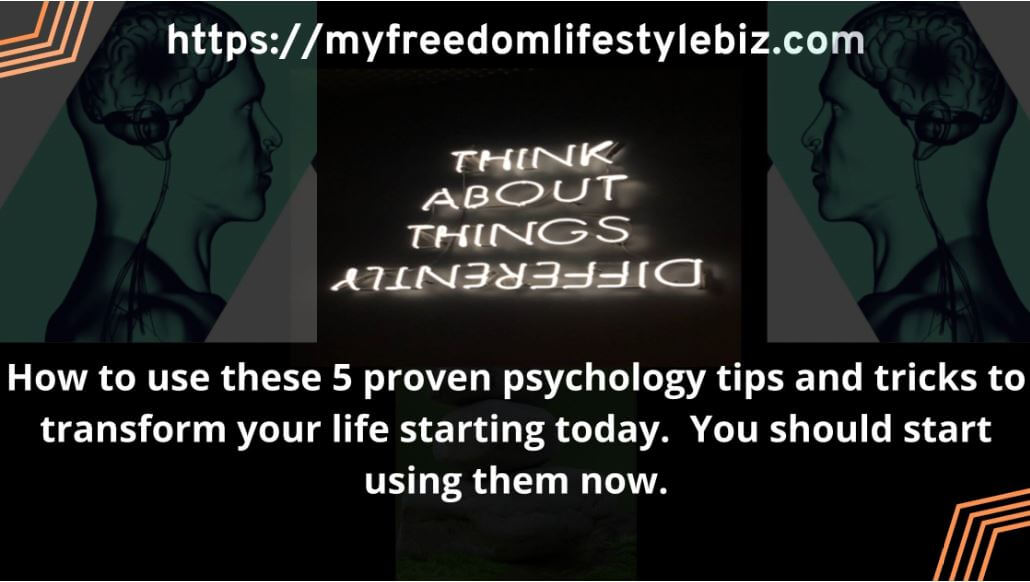 For example, you are in a relationship, and you have been pitching to your partner that you need a break. You both need to go on a vacation, or a cruise and your partner has been reluctant to cave in.
You can put the picture in your partner's head by talking about the trip, the different restaurants, and the beaches there.  Show him pictures and indirectly help him/her visualize it. 
Before long, your partner will be excited to plan and go on the trip with you.  He/she now has the image in his / her mind.  Indirectly painting a picture for someone else will be useful in getting them to see and visualize with you.
4. Another psychology trick that works most times in upping your negotiation game.
Give a little something to get a little something in return.
The fourth tip is about Reciprocity. Make people feel needed when you ask for help.
If you need someone's help, it is usually better to start off with the phrase, 'I need your help…' People like to feel needed, and they dislike feelings of guilt.  When you start off the conversation with that phrase, people are more likely to be compelled to help you.
Also, people are more likely to help if they feel or know that they will get something in return.
Do not make it only about yourself when requesting a favour from people.  Especially people that you are not acquainted with.  Let them know what they will benefit from it.
This trick can be very useful when networking and trying to expand your business.
For example, when reaching out to grocery stores regarding stocking and introducing your new product to their store.
You do not just write a proposal requesting that they sell your products to their customers. The best approach is to do some research about their customers. And figure out that they will like your products.
You then let the grocery store know that putting your product on their shelves will attract more customers and expand their clientele.
They will be glad to stock your products and increase their sales.
This trick can be used in your personal life as well. A friend will be more obliged to give you a ride if you offer to put gas in his / her car.
Another example is when you need a place to stay. Offering to help with rent will make someone feel good about sharing his / her place with you.
5. This is an effective psychology trick that works most of the time. When resources are not available, we are more likely to desire them.
The last thing that we are going to talk about is "SCARCITY". Now I have talked about "SCARCITY" but truly it might be one of the most if not the most important social psychological factors for creating designs.
We go crazy when we feel like this is our last chance to have something, someone, or whatever it is. The problem here is that when we really want something in our lives, we tend to make ourselves extremely available, we destroy any sense of SCARCITY.
Many relationship coaches and mentors hammer on this point. Do not be too available if you want to be respected and appreciated.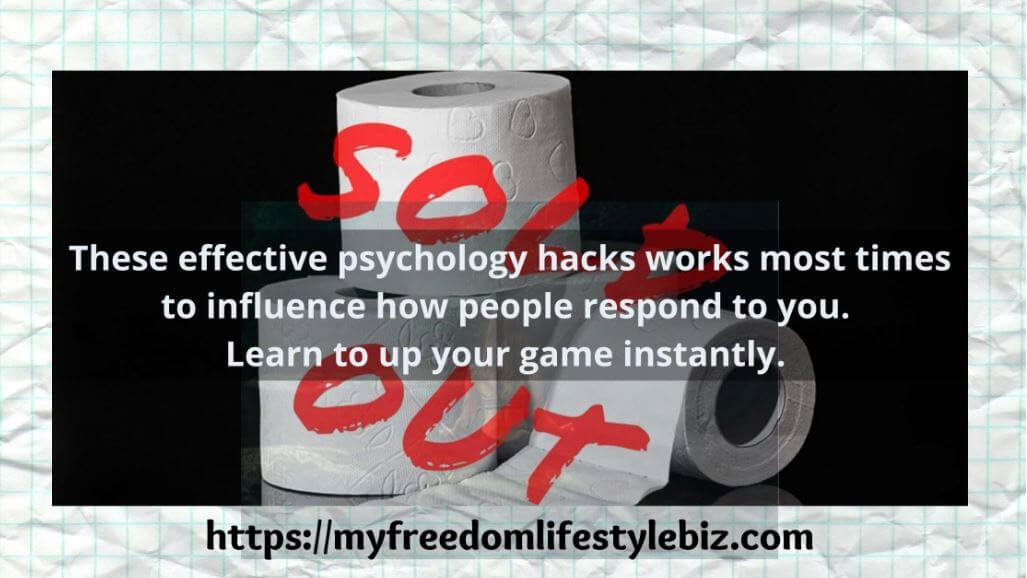 No, do not fake scarcity. But fill your life with loads of fun and useful activities to make you scarce and your time valuable.
For example, there are people that take you for granted because you are always available whenever they beckon. They feel like you do not have anything better to do anyway.  But when you spruce up your life with daily positive activities that keep you engaged such that you are not waiting for hands and feet on such individuals. Things change and you are more appreciated.
So next time such people need your help or time, they will call ahead and plan with you and not take you for granted. Because making yourself less available makes them value your time more.
Another example is when you are dating. People get very excited when they meet new potential lovers.
And want to be around them all the time. But this makes them susceptible to being taken for granted. They appear needy and clingy when this happens.
Remember not to drop everything, including your life, when you first meet a potential "special one". Make yourself a bit scarce and you will be highly valued and appreciated.
Keep in mind that scarcity is extremely important for influencing people.  It works on me, works on everybody all the time.  It works in sales, relationships, and many aspects of life.  Do not fake it but allow your schedule to be filled with things that make you a bit more scarce and less accessible.  ( go out with a friend, have a break for yourself with meditation, read a book, have a spa day, spending time with your parents … fill up your calendar with simple things then you don't feel like cheating)
CONCLUSION
Knowing these tricks has helped improve my communications and negotiations skills tremendously.  We encourage you to utilize them in your daily transaction.
If you found this helpful you can start applying these 5 psychological tricks and tips today.
Feeling unsure and not yet convinced? Join the free seminar now click on the " join now…"
Conquer Your Fear. The time is now. Don't wait
Take Action today join the free seminar now...